Website Development Process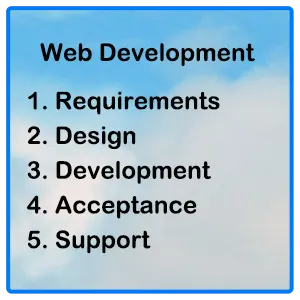 Our structured Web Site Development Process consists of the following steps:
1. Requirements – Our Business Analysis
The first step is to complete an analysis of the requirements for your web site. We use a simple checklist to gather the initial information. It usually takes about an hour for this work. This is a free consultation for all our clients.
If you don't have a domain name already, we'll help you find one that's appropriate for your business and ensure it's registered in your business name regardless of whether or not you use us to develop your site.
In addition, we'll help you get email accounts established to correspond with your domain name, if you need them.
2. Site Design
Next, we prepare a site design for your review. We select a template that's attractive and appropriate to position you against your competition.
We'll review this with you and make adjustments and changes per your request.
3. Development of Site Elements
During this phase we develop all the site elements. We review content with you on a regular basis to ensure accuracy and appropriateness of style. This includes development of all the site components, such as

Landing Pages
Forms
Images
Graphics
Videos
Product pages &amp, eCommerce data
4. Final Site Review & Acceptance
We conduct a complete site review prior to final acceptance. When complete, we'll walk through the entire site with you and review each page, image, link, etc.
When you're satisfied, we're satisfied.
5. Ongoing Support & Updates
Things change. We're here to support our customers after the site is completed. We continue to support your site after we've completed the development. We provide low-cost support plans that include updates to your site to help ensure that it represents your business as it advances. In addition, we offer support for new development of content, forms, pages, etc.